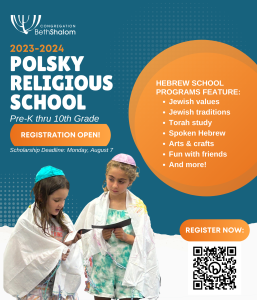 Deadline to Enroll: August 7
Deadline for Scholarship Applications: August 7
At the Polsky Religious School (PRS) at Congregation Beth Shalom, we impart the richness of Jewish values and culture to our students on a convenient schedule that works around secular demands. Our programs feature Jewish teachings, Jewish holidays, spoken Hebrew, music, art, and fun with friends. We invite your family to become part of the Beth Shalom family as we experience the richness of the Jewish year: together, as a community.
How to Enroll
Fill out our online enrollment form or print the paper enrollment application to deliver to the Beth Shalom office. Please note, online enrollments are not eligible for financial assistance.
How to Apply for PRS Scholarships – Deadline Monday, August 7
Contributions made for the benefit of our youth are invested into our Permanent Scholarship Fund, which allocates grants based on financial need to member families. To be considered for a PRS scholarship, please use the paper enrollment + scholarship application, include your most recent 1040 with schedule attachments, and deliver to the Beth Shalom office. Scholarship recipients must be members in good standing. All scholarship applications are strictly confidential.
Download Scholarship Application (PDF)
PRS Programs for 2023-2024
PRE-K *NEW!
Annual Tuition: $180
Meets one Sunday morning per month
KINDERGARTEN
Annual Tuition: $580 (Get a $400 credit for attending four Better Together programs!)
Meets every Sunday morning
1ST GRADE
Annual Tuition: $580
Meets every Sunday morning
2ND GRADE
Annual Tuition: $590
Meets every Sunday morning
3RD – 6TH GRADES
Required for future B'nei Mitzvah students.
Annual Tuition: $1,205
Meets every Sunday morning & Wednesday evening
7TH GRADE
Required for future B'nei Mitzvah students.
Annual Tuition: $900
Meets every Sunday morning & Wednesday evening
8TH GRADE
Annual Tuition: $580
Meets every Sunday morning
9TH & 10TH GRADE (CONFIRMATION)
Annual Tuition: $180
Meets two Sunday mornings per month
* Does not include Confirmation trip travel costs
Sunday Programs
All Sunday programs include:
Family breakfast
Family services led by Hazzan Tahl Ben-Yehuda
Classes on Jewish values and traditions, spoken Hebrew, and more
Wednesday Programs
All Wednesday programs include:
Hebrew lessons
Torah study
Classes on Jewish values and traditions