5529 Ditzler Road Raytown, MO 64133
Phone: 816-398-9290 (Leave a message and your call will be returned)
Funerals & Mourning During the Pandemic Period
The Yukon Chapel at Mt. Carmel
Mourner's Guides
Memorialize a Loved One with a Tablet here
Purchasing a Plot
Contact our Executive Director to schedule an appointment.
Many of us do not anticipate the need to purchase cemetery lots for ourselves. Unfortunately, none of us know what the next day might bring. Now is a good time to plan. The price for the plot includes use of the lot, opening and closing of the grave and permanent maintenance.
Cemetery Hours
Regular Cemetery Hours
Open 8am – 4:00pm, Sunday, Monday, Wednesday & Friday
Closed Tuesday, Thursday & Saturday
Cemetery Closed
Jewish Holidays – Closed
National Holidays – 9am – 4pm
Thanksgiving Day – Closed
Christmas Day – Closed
New Year's Day – Closed
The Yukon Chapel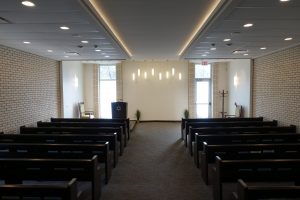 The Yukon Chapel at Mt. Carmel cemetery has served the needs of Beth Shalom's members since it was built in the mid 1970's. The chapel is frequently used for unveilings and funeral services that are not held at Louis Memorial Chapel or another funeral home.
In 2016 the structure received a much-needed renovation. Through the efforts of cemetery committee chairman, David Sosland and volunteers, Marcia and Steve Karbank, the Sosland and Karbank families have stepped forward to fund this approximately $370,000 project.
Improvements included new lighting, flooring and upgraded ADA accessible restrooms. The original wooden pews and lectern were refinished and new audio/visual equipment installed. New sinks were also located both outside the chapel and in the foyer for ritual washing.
In addition to chapel renovation, the maintenance shed used by Mt. Carmel's appreciated caretaker, Jim Jones and his staff was also replaced.