Harold Kaseff Honored with Kovod Award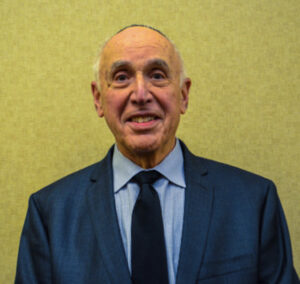 At Shabbat services on September 24, 2022, Harold Kaseff was honored with the Kovod Award, recognizing his commitment to Congregations Beth Shalom and Ohev Sholom, and the overall Jewish Community of Kansas City.
Harold led the joint task force for the recent consolidation of Congregations Ohev Sholom and Beth Shalom and worked tirelessly to ensure that Congregations came together under mutually agreeable terms.
The Kovod Award, initiated by the Men's Club in 1944, was established to "honor an individual or individuals, who have provided exceptional service to Congregation Beth Shalom."
Harold came to Kansas City as a hospital administrator, and is now retired, but you would not know it with all the volunteer hours he puts in!
 Harold is a graduate of Indiana University and earned a master's degree in hospital administration from Washington University. Harold is married to Rhea Salasche, and together they have six children, 18 grandchildren, and two great-grandchildren.
Harold has chaired many events and committees at Beth Shalom, including concerts, fundraisers, the closing events for the Wornall Campus, the Planned Giving Process, has been president of the Beth Shalom Foundation, and just began his third term on the Board of Directors. During his term, Harold served on the Executive Committee as Secretary. Harold ensures that there are volunteers for Kiddush Corps each week as well as organizing the Shabbat greeters. Harold is also a past president of Congregation Ohev Sholom.