Breaking Bread – a Tasty & Engaging Success!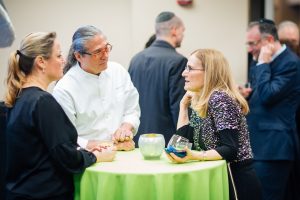 Congregation Beth Shalom's second annual Breaking Bread event featured James Beard award-winning chef Michael Smith of Crossroads Arts District restaurants Extra Virgin and his newly opened concept, Farina.
Check out photos from last year's event
For sponsorships or reservations, contact our Associate Executive Director.
Breaking Bread—Aviv! celebrated the change of seasons with a springtime-inspired kosher Mediterranean feast – a four-course kosher gourmet dinner with wine. Craig Sole created the inspired flower arrangements and cheerful table settings that decorated Goldsmith Hall. The ICM String Quartet from Park University enhanced the evening with background music.
When he wasn't in the Vaad-supervised kitchen or schmoozing the attendees, Chef Michael Smith was serving courses alongside his professional staff. And, in his very charismatic way, he thanked the diners for the opportunity to prepare this unique dinner, while humorously sharing how he overcame the challenges of a kosher kitchen.
The event was a fundraiser for the Congregation. Committee Chairpersons Corey and Jered Nussbaum, Esther and Stewart Stein, and Lynne and David Bock worked together to create an enjoyable experience that would appeal to multiple generations.
The accolades from our congregants, guests and Board were all extremely positive. Kudos to our wonderful volunteers. And a big TODAH RABAH to our all of our donors." For the second year, the event sold out within days of invitations being mailed and was, once again, a financial success raising approximately 40 percent over goal.