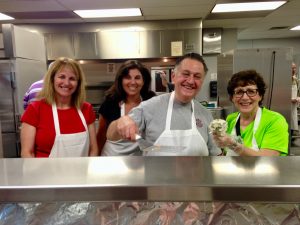 Beth Shalom's Lechem Committee has been a part of an interfaith effort to feed the hungry for nearly forty years. The Lechem Committee serves hot lunches seven times a year at St. Mary's Food Kitchen in Kansas City, Kansas. On December 3, 2018 the kitchen served its five millionth meal. Our congregation, along with 51 churches, helped to reach this milestone of feeding those in need.
Most of the food and supplies are purchased through an agency which reduces cost. Volunteers cook the meat in their homes and then on our serving date, they set up, prepare and serve lunch. If you would like to volunteer to help cook part of the main entree before each serving date in your own kitchen or volunteer to serve lunch, please contact Cindy Daniels at 913.451.5852 or Marcy Rydell at 913.338.3399 our Lechem Co- Chairs.
We thank our amazing crew, totaling over 70 volunteers, who generously give of their time and energy to both cook and serve these meals. Anyone, who is bar/bat mitzvah age or older is invited to join us to experience the camaraderie in the kitchen and to see firsthand how our congregation is helping to have a positive impact on the lives of others.
Your generous donations to the Marcia Eveloff Lechem Fund help to make it possible for our congregation to participate in this mitzvah. If you would like to participate, but do not have the time, donations to the fund are always appreciated and welcome.