At Beth Shalom, we experience Jewish living by engaging, learning, and celebrating Jewishly.
Mission
Congregation Beth Shalom is a diverse, egalitarian, conservative Jewish community striving to enhance life-long connections to Judaism and to each other through prayer, spirituality, learning and friendship. Click here to learn about the history of Beth Shalom.
Vision
Congregation Beth Shalom strives to be a synagogue of dedicated, involved congregants:
Passing on the traditions and values of Conservative Judaism to the next generation and beyond
Committing ourselves to life-long learning
Repairing the world through acts of loving kindness
Supporting one another in times of joy, sorrow and need
Growing an engaged base of volunteers
Ensuring continuity of our synagogue community through responsible fiscal management
Values
Congregation Beth Shalom values Talmud Torah—active study and application of Torah in all aspects of our lives.
Congregation Beth Shalom values Avodah—offering a variety of meaningful worship experiences, which cultivate individual spiritual growth and connectedness to God within community.
Congregation Beth Shalom values a Kehillah Kedoshah—building and sustaining community within our congregational family.
Congregation Beth Shalom values Ahavot Ha-Bri'ot–reaching out to the entire world.
Congregation Beth Shalom values Hitnadvut–utilizing the collaborative efforts of volunteers and staff to further th
History
Congregation Beth Shalom has been a pillar of the greater Kansas City Jewish community since 1878. The congregation traces its root to some of region's earliest Jewish settlers, who formed the Orthodox congregation Keneseth Israel in 1902 at 1425 Locust Street. Shortly thereafter, Beth Shalom was formed in 1915.
Beth Shalom and Keneseth Israel merged in 1924, and in 1927 the congregation moved to a new synagogue building at 3400 Paseo Boulevard. It remained there until the early 1960s, when a religious school building was built at 95th and Wornall followed by a sanctuary in 1971.
In 2004, Beth Shalom broke ground on its current home at 14200 Lamar Avenue in Overland Park, and relocation was completed in 2013.
We hope you enjoy this historical overview of key milestones in the life of Congregation Beth Shalom.
The Early Years
1878 – Congregation Keneseth Israel originates from Russian and Polish immigrants who had formed their own burial society.
1893 – Benjamin Mayerovitz becomes Rabbi.
1894 – The organization's leadership seeks a state charter.
1902 – Plans are finalized for a facility of Spanish Moorish design at 1425 Locust Street, at a cost of $20,000.
1904 – Max Lieberman becomes Rabbi.
1908 – Isidore Koplowitz becomes Rabbi.
1912 – Samuel Cohen becomes Rabbi.
1915 – Congregation Beth Sholom (the House of Peace) emerges from a group of men and women following the new trend of Conservative Judaism. Abe Denebeim and Rabbi Samuel M. Cohen lead the congregation at 31st and Charlotte, in the former Linwood Christian Church.
1917 – Salo Stein becomes Rabbi.
1919 – Herman M. Cohen becomes Rabbi.
1919 – The congregation purchases a large private residence, at the southeast corner of Linwood and Highland, for use as its facility
The Paseo Years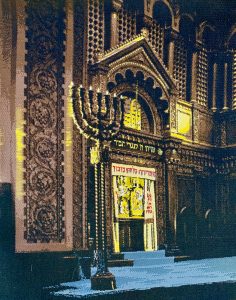 1924 – Merger talks between Keneseth Israel and Beth Sholom begin following Keneseth Sholom's inability to complete a structure on land purchased at 34th and the Paseo.
1927 – The Paseo facility is dedicated with 1,200 seats and led by Rabbi Herman M. Cohen. The Kansas City Star and Architectural League of Kansas City praise its beauty and architectural detail.
1929 – Gershon Hadas becomes Rabbi.
1934 – Jacob Rothblatt becomes cantor.
1955 –The congregation purchases land at Bannister and Wornall Roads to accommodate its growing needs and to follow the migration of the Jewish community to southwest Kansas City and Johnson County, Kansas.
1961 – Morris B. Margolies becomes Rabbi.
The Wornall Years 1962 – The school building opens at Wornall with 20 classrooms, a commons room and related facilities.
1966 – Irving Feller becomes cantor.
1969 – The Torahs are moved from Paseo to Wornall, signaling the end of the Paseo era.
1971 – The sanctuary building opens following repeated construction strikes. It includes the Ark and dedication windows from 34th and Paseo in order to honor and maintain the nostalgia of the former location.
1972 – Hyman Sky becomes cantor.
1976 – Permanent seating in the sanctuary is completed.
1980 – Rabbis Hadas' death follows 50 years of service to the congregation.
1986 – Rabbi Margolies retires.
1986 – I. David Oler becomes senior Rabbi.
1986 – The social hall and school wing are heavily damaged in a windstorm, requiring a year to repair.
1988 – Charles Popky becomes acting senior Rabbi.
1988 – Ira S. Bigeleisen becomes cantor.
1989 – Alan Cohen becomes Rabbi.
1992 – David Barash becomes cantor.
2001 – Jodi Sered-Lever becomes cantor.
The Lamar Years
2006 – The school building opens at Lamar with classrooms, a commons room and administrative and ritual offices.
2006 – Robert Menes becomes cantor.
2008 – Rabbi Cohen retires; Robert Tobin becomes senior Rabbi.
2009 – Rabbi Stein joins the congregation as Assistant Rabbi
2011 – Rabbi Tobin resigns and the Assistant Rabbi position is eliminated. The Wornall building is permanently closed in July.
2011-12 Rabbi Alan Cohen assumes the position as Interim Rabbi.
2012 – Hazzan Robert Menes leaves the congregation.
2012 – Rabbi David Glickman assumes the helm as Senior Rabbi.
2012- Rabbi Margolies' death leaves a lasting mark on the Jewish community.
2013- Hazzan Tahl Ben-Yehuda joins the congregation as Director of Congregational Learning.
2013- Sale of the Wornall property.
Consolidation with Congregation Ohev Sholom

On July 1, 2022, Congregation Ohev Sholom consolidated with Congregation Beth Shalom. The decision by both of Greater Kansas City's two Conservative congregations to consolidate strengthens the Conservative Movement in the community. Read more
The Future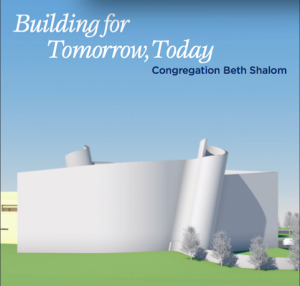 With vibrant clergy and staff and active participation in congregational life by its members, we look forward to continuing to build on our rich and storied history. Click here …