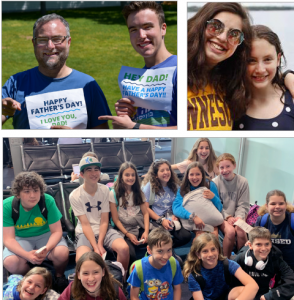 By Shira Zigler
What is the best part of summer? CAMP! How I wish I could go back to the days of swimming, playing games, art projects, and goofing off with friends without a care in the world!
Luckily, as a parent I can relive these memories vicariously through my two daughters! Through their eyes, I have spent several years at Camp Beth Shalom at the Rose Family Early Childhood Education Center, attended art camps, cooking camps, drama camps, and various other camps in our community.
These day camps have all been a blast, but this summer I finally get to go to sleep-away camp! I have been bombarded with memories of packing up my belongings into a duffel bag so large I could zip myself up inside the bag; sitting in the dining hall having all you can eat food contests, singing, and dancing on Shabbat; sailing on the lake; writing favorite poems and stories in blank journals we called "nothing books"; drinking Kool-Aid out of baby bottles.
Jewish sleep away camp is not only a fun way to spend your summer; it is a unique opportunity for Experiencing Jewishly Living weeks at a time. It is an opportunity to gain personal independence as well as Jewish independence.
We are very lucky in the Midwest to have multiple Jewish sleep-away camps to choose from. Even luckier, we at Beth Shalom have a community that is so dedicated to Jewish experiences that we have a scholarship fund for Jewish sleep-away camps.