September 9, 2023, 8:00 pm - 11:45 pm
Add to iCal | Add to Google Calendar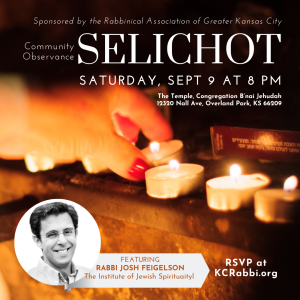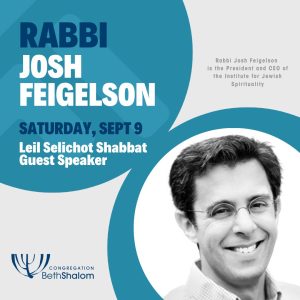 The Jewish community will come together to prepare for the High Holy Days at the annual community Selichot program and service on Saturday, September 9. There will be opportunities for multi-access participation.
Shabbat morning, Rabbi Josh Feigelson will join us in Goldsmith Hall for services and as our guest speaker.
The Selichot evening will begin at B'nai Jehudah with a dessert reception at 8:00 pm followed by Havdalah at 8:50 pm. At 9:00 pm The Breath of Life: A Jewish Mindfulness Practice of Teshuva will be the topic of a discussion led by Rabbi Josh Feigelson, President & CEO of the Institute for Jewish Spirituality.
We will have our Midnight Selichot Service at Beth Shalom in the Library Minyan Room from 11:45 pm – 12:45 am.
Register for Evening Event Here