James Beard Finalist Delighted Palates at Breaking Bread Fundraiser
February 9, 2020, 6:00 pm - 10:00 pm
CBS Goldsmith Hall
14200 Lamar Avenue
Overland Park, KS 66223
Add to iCal | Add to Google Calendar
Breaking Bread 2020 featured Chef Calvin Davis of Freshwater. Chef Davis was nominated for the James Beard Award Rising Star Chef of the Year 2019.
Check out photos from last year's event!
For table sponsorships or reservations, contact our Executive Director.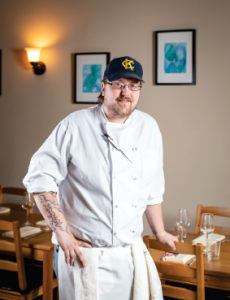 Chef Calvin Davis
Chef Davis was brought up in the restaurant industry. His grandfather, Dr. Richard Davis invented KC Masterpiece Barbecue Sauce and Chef Davis grew up running around the family-owned restaurants. In 2019, Davis enrolled in the Culinary Institute of America after spending two years learning the ropes of fine dining in a Country Club in Springfield, MO. After an internship at Woodfield Country Club in Miami and graduating CIA, Davis spent time staging at various restaurants around NYC including Le Bernardin, Babbo, Gramercy Tavern, and Salumeria Rossi. Davis then returned to Kansas City to open Milieu, a small modern french bistro as the Chef de Cuisine. An offer came from New Orleans to be the opening Sous Chef of a revived French Quarter classic, Marti's where Davis was quickly promoted to executive chef and spent two years at the helm. Deciding to move back to Kansas City, Chef spent time at Local Pig Butcher Shop and restaurant in Westport before taking a position as Chef de Cuisine of Gram & Dunn. It was during this time Davis began doing Pop ups under his own name and developing the Freshwater brand. In May of 2017, Davis finally realized his dreams and opened Freshwater. After 2 months, a car accident closed the restaurant for the better part of the next year, during this time Davis opened Revival inside the Hotel Frederick in Boonville, MO. Since Freshwater reopened in May 2018, Davis has seen countless accolades and awards for both restaurants, and in March 2019 received a James Beard Nomination for Rising Star Chef of the Year.

Map Unavailable