Frieda's Heavenly Round Challah
August 3, 2020 - September 1, 2020, 9:30 am - 4:00 pm
Add to iCal | Add to Google Calendar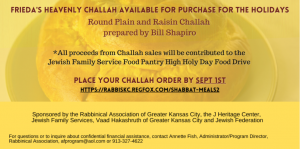 Rosh HaShanah is just around the corner. Orders are being taken now for Frieda's Heavenly Round Challah, available with or without raisins. September 1st will be the last day to order the Round Challahs. A plain round challah is $8, with raisins $8.50.
To place an order, please visit here.
All profits, above the cost of ingredients will be donated to the Jewish Family Food Pantry High Holiday Food Drive.
Thank you for your support.