Changes in Services & Programming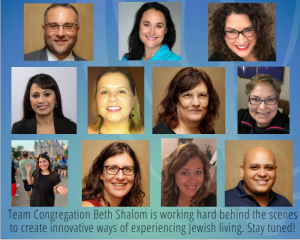 Shalom friends,
The news of the spreading COVID-19 can be very frightening and uncertain. At Beth Shalom, we are striving to find ways for our synagogue to be a place of physical safety as well as spiritual uplift.
This is a time to think creatively about compassion. If there is someone you used to hug – now they need a video chat. If there were people you used to give a high-five or a handshake while working out at the J or at Shabbat services – now send them a text. Just because our methods of connecting need to be modified, we are not helpless. We can still express our caring toward each other. We will need each others' help in doing this.

We will continue to communicate as we all adapt quickly to the ever changing news using appropriate guidance from the Center for Disease Control (CDC) and our local health departments. Listed below are immediate actions that we are taking.

If you have questions, please feel free to contact Rabbi Glickman at or Jason Krakow.

During the Coronavirus Precautionary Period, Beth Shalom will make the following changes to our programs:
Beth Shalom will NOT hold any Shabbat Service's in our building.
Beth Shalom will not hold classes in our building for preschool, religious school or adult education until further notice.
The Beth Shalom building will be closed to the public until further notice.
Until further notice, we WILL Connect With Prayer at Zoom Minyan
We will be introducing ways to connect through technology and continue our mission of being a place of community, Torah, and compassion. We will be finding new ways to do this.
"Connect For Shabbat" – Rabbi Glickman and Hazzan Ben-Yehuda will be broadcasting Friday nights at 6:00 PM on Facebook Live. We will share words of Torah, some singing, as well as saying a memorial prayer for loved ones who have a Kaddish on Shabbat. Until further notice, the broadcasts will continue each Friday. Saturday morning services will be live-streamed from Goldsmith Hall. Most Saturday nights look for Havdalah on Facebook live.